Please join us on September 15, 2020 from 7:15 – 9 PM EDT for "Toast The Two Chefs"
Because of the COVID situation, this will be an online fundraising event, and a pretty early evening, so the whole family can join in – no matter where you are!
September 15, 2020 marks the 2nd anniversary of the murders of our Two Chefs, Steve Gudknecht and Kris Hicks. We will be celebrating the memory of these two good men at "Toast The Two Chefs".
What is "Toast The Two Chefs"?
We will have a casual evening of:
Chat with Family, Friends & Special Guests
Music by Colin Aberdeen
Music by Chuck Mead & His Grassy Knoll Boys (A concert after 8 PM!)
Prizes for your Toasts:
Funniest, Most Sincere, most original
(Toasts as video, photos or text should be submitted by Sept. 9 by email)
How To Support This Fundraiser:

We are asking for a donation of $15 for the Toast. We will be giving you a Thank-you gift of an official, limited edition, Two Chefs From Above shot glass so you can join in, and toast in style!
Each shot glass is pre-packaged with a bonus Two Chefs From Above sticker, and all the information that you need to join us on Sept. 15 for our private "Toast The Two Chefs" Event. Also, please make sure you follow our Facebook Page for any news
We have two options for donating and getting your shot glass thank-you gift.
Local Pick-up in Syracuse , NY Area:
Place your donation online by using the link below. During checkout you will see "Choose An Option". Click on it and choose the local business where you would like to pick up your shot glass thank-you gift. Just show the business your email receipt, and they will give you the shot glass. It's that easy! Below is the link for local pick-up donation.

Locations to pick up your Two Chefs From Above shot glass thank-you gift!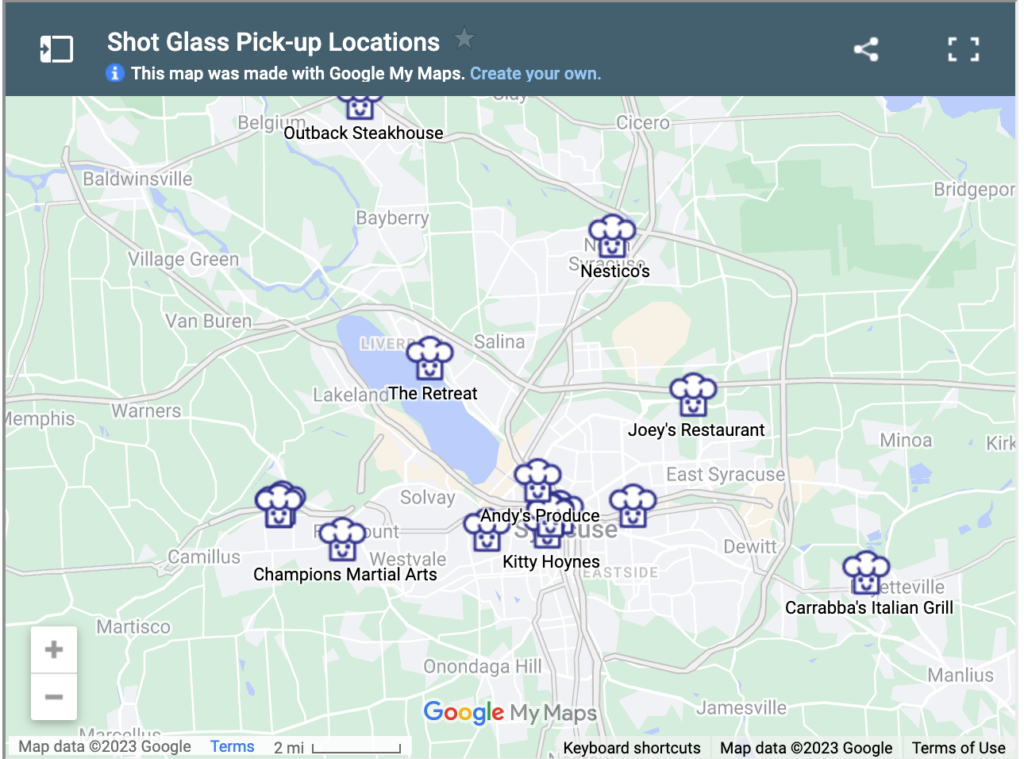 Shipping:
We know there are a lot of friends & family that are not local,
and still want to participate and support Two Chefs From Above. Below is the link for making your donation, and getting your thank-you gift shipped to you. There is a $6 shipping charge in addition to your donation.
If you want to make multiple donations to receive extra shot glass thank you gifts, we can ship 2 in the same box for the same shipping fee. Please keep in mind that shipping is more time for us, and if you are local, please choose the option above for a local pickup location